Kompass.com - The world's largest online B2B marketplace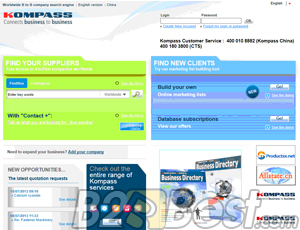 Kompass has served business and industry for 60 years. It originated in Switzerland and is now present in 70 countries worldwide.
Kompass has developed its business through a franchise network.
In many countries it operates with internationally known firms such as: Bonnier in Scandinavia and Hungary, Reed Elsevier in the UK, the French and Italian telecom companies in France, Italy, Spain and the Benelux countries, and Coface/Veritas in the USA, Mexico, Chile and Canada, Coface/Intercredit in Poland...
The Kompass Group employs over 2500 people.
If you have any questions or if you would like to order any Kompass Products, please contact your local publisher. If you reside in a country where Kompass is not yet represented, please contact Kompass International.
About
Kompass.com - The world's largest online B2B marketplace
's recommend,only on behalf of the views and opinions about
B2B Directory
, if you have any suggestions , please feel free to contact with us, we will amend and correct them in the first time according your suggestions. More better
B2B Websites
recomend, Please
click here
.